10 October 2022
Tysiące wyprodukowanych śmigłowców w ciągu siedmiu dekad działalności operacyjnej PZL-Świdnik ugruntowało pozycję tych zakładów w skali światowej. Polska dzięki świdnickim zakładom jest jednym z nielicznych na świecie producentów śmigłowców i jedynym polskim OEM-em (Original Equipment Manufacturer) zdolnym do projektowania, rozwoju, produkcji, kastomizacji i serwisowania śmigłowców w całym cyklu ich użytkowania. W tym kontekście rzeczywiście świdnickie zakłady tworzą unikatową wartość dla polskiej gospodarki, a dla wojska stanowią bazę logistyczną i zaplecze techniczne.
W swojej historii zakłady dostarczyły około 80% śmigłowców składających się na flotę Sił Zbrojnych RP. Dzisiaj około 60% z nich wciąż uczestniczy w misjach krajowych i zagranicznych, wspierając operacje powietrzne, lądowe i morskie Sił Zbrojnych.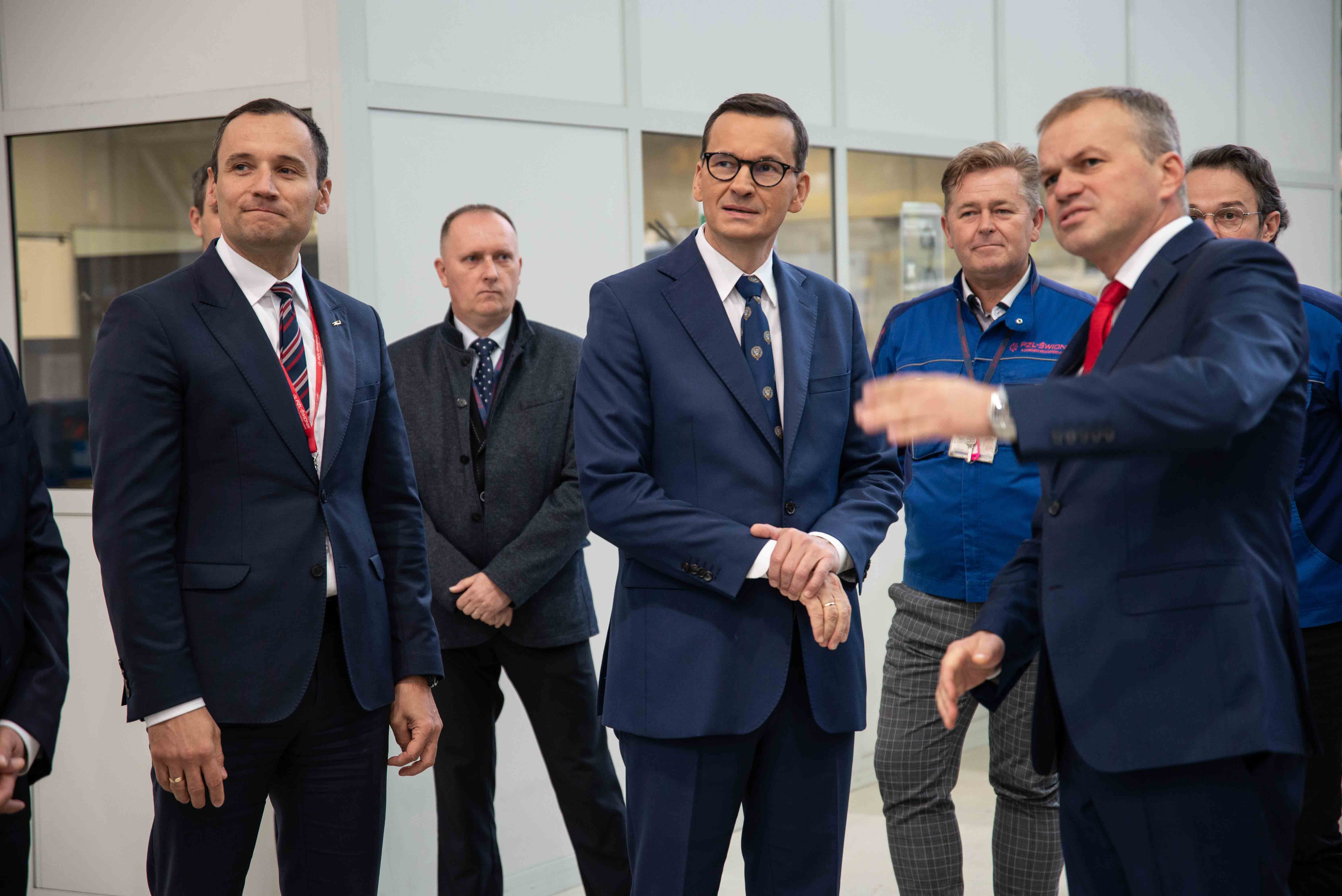 Pan Premier Mateusz Morawiecki podczas wizyty w PZL-Świdnik S.A. / foto PZL
Idziemy ramię w ramię z Wojskiem przyczyniając się, poprzez programy śmigłowcowe, do umacniania bezpieczeństwa Polski. W tym kontekście wizyta Prezesa Rady Ministrów Pana Mateusza Morawieckiego w PZL-Świdnik w dniu 24 września br. była wyrazem docenienia wkładu PZL-Świdnik.
Podczas wizyty w świdnickich zakładach Premier Rzeczypospolitej zapoznał się z linią produkcyjną i docenił jej nowoczesny park maszynowy, na który składają się również maszyny i urządzenia krajowej produkcji, które dzięki swojej doskonałości wpisują się w światowe trendy technologiczne. To kolejny dowód na siłę i potencjał rozwojowy polskiego przemysłu.

Premier RP, Pan Mateusz Morawiecki zaznaczył, że polski rząd nie szczędzi sił i środków, aby dla dobra Polski umacniać bezpieczeństwo ojczyzny. Premier podziękował wszystkim pracownikom i kadrze PZL-Świdnik za przechowanie inżynierskiej wartości i dodał, że ze swej strony, jako Prezes Rady Ministrów zrobi wszystko, aby kolejne projekty trafiały do tej "wspaniałej, polskiej fabryki, bo to przecież, można powiedzieć trzy pieczenie na jednym ogniu: kontrakty dla PZL-Świdnik oznaczające wyższe i dobre pensje dla polskich pracowników, transfer technologii i wzmocnienie bezpieczeństwa Rzeczypospolitej".

PZL-Świdnik już uruchamia linię produkcyjną nowego polskiego śmigłowca wielozadaniowego AW149, która zapewni pracę obecnym, a także nowo zatrudnianym pracownikom, natomiast unifikacja i modernizacja śmigłowców opartych na platformie W-3 będzie doskonałym przykładem wykorzystania nowoczesnych technologii do rozwinięcia istniejącej bazy produktowej.